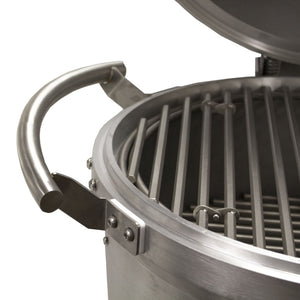 ​Take your love of grilling on the go, with the addition of these Blaze Kamado Stainless Steel Side Handles. Made to fit your Blaze Kamado grill, these durable and easy grip handles will make it a cinch for two people to lift and move your grill. With maximum mobility, where will your grilling adventures take you next?
The Blaze Stainless Steel Kamado Side Handles are made with 304 stainless steel which makes them durable, resistant to corrosion, and able to stand up to the elements. Whether you're moving your grill from your patio to your pool deck, or taking it on the go for camping or visiting friends, you'll love being able to grill on the go. Because of the sturdy built of the Blaze Kamado there is no risk of it breaking when you move it.
This handle set includes four heat-resistant pads so they won't get hot when you are grilling.